Working Strategies and Policies
Strategies
The main intension of the proposed intervention is to improve food security, income status and build resilience capacity of the targeted beneficiaries and communities. The following chart briefly shows on what, why and how we achieve these.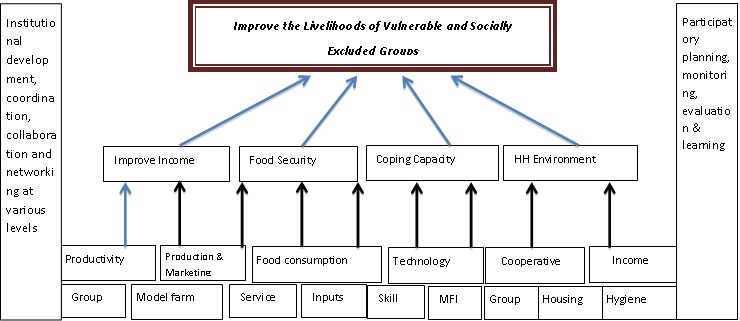 Approaches
The development hypothesis behind applying for livelihood interventions is based on collective expertise of the collaborating partners addressing deeply rooted factors affecting sustainable income source, food, sanitation, education and risk management of earthquake victim families. Even though off-season vegetable production and livestock management are not the only determinant of improving livelihood, it is however a major one which need to be backed up by different components. The aim of this project in Makwanpur is not only in additional income but also in the availability, access, sanitation, DRR, education and utilization of more nutritious food, particularly of those who are currently food insecure. It is also related to the dimensions of inclusion (ADS, 2014).
MRC Nepal is very much serious and conscious on quality service delivery so as expected results of its initiatives will be achieved effectively & efficiently. Similarly, ownership for sustainability of the interventions through the applications of different approaches & mechanisms are other important strategies in the organization. It has got widely accepted because of its working approach and achievements in the district. In order to achieve best results of the organization, the implementing agency will take care of different approaches and strategies as described below but not limited to;
MRC Nepal is a team of having different expertise particularly on Project Cycle Management; Agriculture, DRR, social development and Institutional development. The project will be implemented through a participatory approach that involve in designing, planning, execution and M&E. Implementing agency having expertise on livelihood, rehabilitation and disaster support component. A number of works have been implemented by these organizations in the past within the district and outsides and a synergy will be generated.
District Project Advisory Committee (DPAC):
A DPAC will be formed comprises representative from DADO, DLSO, WDO, DSCO, DSCIO, DDRC and DDC which are important actors from different perspectives. A regular meeting will be organized for sharing progress and receive strategic inputs. This will not only support for effectiveness but also create environment for effectiveness and continuity of the initiatives.
Institutional Development:
All the project activities will be implemented through groups. For this, Assess the group, if not, group will be formed. We will strengthen group on various areas through capacity building including saving and credit and finally registering them into government institutions like DADO, WDO, DFO & District Cooperative Office. Strong institutional base will be developed that will deliver project in a sustainable manner even after project phase over.
Participatory Market System Development (PMSD):
PMSD is an approach that explores and provides sufficient opportunities to develop system works for long-term market. It is similar to Market System Development (MSD) and Making Market Works for the Poor (M4P). It explores the systemic thinking and suggests appropriate action for greater results and sustainable impact. It will be applied pragmatically but with flexibility.
Technical & Input Assistance:
TAs on different sectors/subsectors is very much crucial so the project will provide technical assistance through different approaches and strategies. These TAs will help to establish local level expertise and skill on different sectors particularly on agriculture, enterprise development, saving credits, institutional development and health and nutrition. Health and nutrition will be an integral part of the action. It includes training, supplementation of micronutrients, dietary food habits, promotion of neglected nutritive commodity, health and sanitation for mother & children, access to WASH products and others.
Income Generation and Improve Income:
It is the main component of the project to be addressed based on need and priority of the people. Based on technical feasibility on/off farm agricultural activities will be identified and implemented. Skill enhancement training and technical backstopping will be provided. In this regard, appropriate technologies will be upgraded thereby enhanced livelihood.
Disaster Preparedness and Environment Protection:
Efficient land management technologies and practices will be followed on both upstream and downstream. Environment protection mechanism will be developed and discourage to use chemicals and provide options (bio fertilizer & domestic pesticides).
Coordination and Collaboration:
We will work closely with the government line agencies, civil society and private sectors, as we know development is a collaborative effort and synergetic attempt that makes difference. This will give opportunity of mutual learning as well as long run sustainability.
Project Implementation Committee (PIC):
At local/ VDC level, PIC will be formed and make responsible for beneficiaries selection and public audit.
Policies
Potential areas are identified based on the resource availability and the need of the local people. The program planning started from district level (District Development Committee) help to establish a strong linkages and co-ordination with the line agencies. It also makes easy access to entry to village development committee (VDC) and at the grass root level to make local participation on need assessment (through PRA, SWOT analysis, PCPS), program planning, social mobilization (group development) and implementation. The homogenous, self-help groups/organizations are promoted. Contributory, intrinsic, multidisciplinary, gender balance projects are prioritized for the action.
Projects are prerequisites with the use of natural resources, including saving collection and conservation of the environment. They are focused in alleviating the poverty of the clients. Then the grassroots people are facilitated to increase their capacity in terms of social empowerment, income generation and resource management techniques. Hence it may lead to win-win game of economic, social and ecological in terms of sharing benefits in a sustainable manner. Special opportunities are created for the poor to generate income from their private property where asmutually inclusive of all actors strategy is followed for the management of common property resources.
Development of village level technical cadres within the group on various disciplines and social cadre for group mobilization sustain the integrated development. Effective mobilization of the groups and potential areas are identified based on the resource availability and the needs of the local people. 
Child Protection Policy
As a member of the United Nations and international community, The Government of Nepal (GoN) has been signatory of Millenium Development Goals (MDGs), International Labour Organization (ILO) 169, Convention on Elimination of All kinds of Discriminations against Women (CEDAW), besides signing up more than 20 International Instruments on human rights. MRC Nepal as leading development organization always respects and works along the Law of Government. So, it keeps child in the center based on work is underpinned by the United Nations Convention on the Rights of the Child (UNCRC). MRC Nepal is committed to promoting the rights of children including their right to be protected from harmful influences, abuse and exploitation.
This Child Protection Policy will be MRC Nepal's statement of intent that demonstrates our commitment to safeguarding children from harm and makes clear to all in the organization and who come into contact with us what is required in relation to the protection of children, and that child abuse in any form is unacceptable to MRC Nepal. MRC Nepal will also include this area as an important component for its planning and review.
This Child Protection Policy will be MRC Nepal's statement of intent that demonstrates our commitment to safeguarding children from harm and makes clear to all in the organization and who come into contact with us what is required in relation to the protection of children, and that child abuse in any form is unacceptable to MRC Nepal. MRC Nepal will also include this area as an important component for its planning and review.
Gender and Social Inclusion Policy
MRC Nepal works together with the poor and DAGs for their better livelihoods. The pro-poor, women and the DAG groups have the right to enjoy equal access to the benefits that can be derived from the development interventions through projects and interventions implemented by MRC Nepal. Their rights need to be promoted by the organization through mainstreaming GESI issues in organizational systems and through a strategic focus on women and DAG's participation, decision-making, institution building and capacity development for improved livelihood.
In this regard, MRC Nepal operates diverse programmes undertaking the challenges of addressing the discriminatory status of the pro-poor, women, landless, Dalits, Janajatis and other disadvantaged group (DAG)s, by organizing them in producers groups, by creating access to appropriate technological options and market linkages for improved livelihood, also empowering target groups in different aspects of development. So, MRC Nepal is committed to address gender and social inclusion at all stages of project cycle that encourage affirmative action for women providing them with equal opportunities and a platform for empowerment. We will provide emphasis for women empowerment within MRC Nepal and member organizations.
As the organization advocates for equal participation by men and women in organizational settings, there has been an increase in the number of female staff and board members (33% women in EC and all committees) within MRC Nepal. Also, the inclusion of ethnics including dalit and madhesi are representation in the executive members is worth praising. Different checklist and tools will be identified and implemented accordingly.
In regards to GESI, MRC Nepal will always respect different laws and policies at various levels (local, national and international) so as will be adopted two approaches;
Affirmation Actions: it will be taken for ensuring workforce diversification, recruiting more women and DAG employees at all levels. Similarly, special focus on women, DAG and minorities will be given for its projects and program at field level
Cross Cutting Issues: We will integrate GESI in all level of works at organizational and project level policies, guidelines, implementation and monitoring.
Good Governance Policy
Culture of learning from our initiatives within and outsides is important aspects for an effective and efficient management. MRC Nepal always considers transparency, accountability, responsiveness and learning as important components in its organizational management and project implementation that creates a more dynamic, proactive and deeper culture of staff engagement in decision making processes and streamline its service delivery and governance process through enactment of laws and procedures.
MRC Nepal will also promote culture of collaboration, which also helps in establishing effective governance system and build local level capacity. Different mechanisms for the engagement of community based organization (CBOs) and beneficiaries will be ensured so as process of designing need based initiatives including participatory decision-making process will be strengthened. We will also promote social audit and other different mechanisms for ensuring transparency and responsiveness.
MRC Nepal will also carry out Social Audit as per the local and project context in which project performance and final audit report will also present. Alternatively, MRC Nepal will also organise formal and informal event and processes to clarify the different aspects of project and interventions. MRC Nepal will also collect and response complains and concerns from its stakeholders and a future plan on how to best make use of the scheme will also also develop – this will guide organization for future effectiveness.
A mechanism to avoid fraud and its management procedure, a risk assessment matrix will be developed on a participatory approach. An independent committee will be formed to address the issues in case of fraud and any other issues in the organization. MRC Nepal will adopt democratic practices including organizing quarterly project reviews, annual general meetings (AGMs) and elections for the executive board as per the organization's constitution.
Administration and Financial Policy
MRC Nepal has developed an administrative and financial policies/manuals to establish and guide the system, rules and regulations, values and norms fo the organization in administrative and financial matters. A periodic amendments have also performed baised on need and time.